In November, we'll be bringing you a lecture on the recent henges discovered in Warwickshire.  In preparation we are excited to have the opportunity to visit the Vale of Pewsey and see excavations at Marden Henge. We'll be taken on a two hour tour by the University of Reading on the 18th July at 2pm.  As the Wiltshire Museum comes highly recommended, a trip there in the morning is also planned.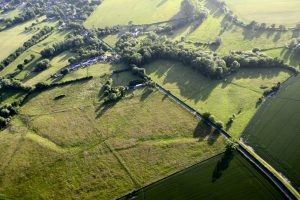 Transport
Car sharing seems the easiest option as we'll be travelling from various points in Birmingham and Warwickshire, although we can arrange a mini-bus if numbers are sufficient.  There is no obligation to offer lifts if you wish to travel down at your leisure.
Cost
A contribution towards fuel costs would be great and there is a charge for entry to the Museum in Devizes (£4.50 for groups).
Sign Up
Please email carolinlin71@gmail.com to reserve a spot.  In your email if you could say whether you'll travel under your own steam, offer a space in your car or require a lift.  If you would like to offer a space in your car or require a lift let us know where your ideal pick up point is.
VISIT TO MARDEN HENGE 18th July 2017