Tuesday 5th March 2019 7pm
Speaker: Shelagh Norton
When is a hillfort not a hillfort? These iconic Iron Age monuments are characterised by their monumentality and prominent visibility. However, a small number of contemporary fortifications share elements of size and monumentality but are found in low-lying, wetland settings. They are increasingly referred to as 'marsh-forts' – so far, Sutton Common near Doncaster is the most researched site of this type. Questions abound – do they share characteristics of chronology and function? how do they reference the wider environment? does the term 'marsh-fort' add value?
A group of potential 'marsh-forts' exist around the wetlands of North Shropshire's meres and mosses. Lying on the fringe of the hillfort zone of the Welsh Marches, this landscape has a rich archaeological heritage, evinced through early lithic assemblages, funerary monuments, metalwork deposition, bog bodies and enclosure. Initial palaeoenvironmental and landscape research has already identified peculiarities associated with the very large, low-lying wetland fortification of Wall Camp on the Weald Moors near Telford, which has similarities with Sutton Common. Further research is ongoing to investigate, again through landscape (including GIS and LiDAR) and palaeoenvironmental study (plant macrofossils and fossilised insect remains), other similar monuments in the wider area, notably the fortifications at the Berth near Baschurch.
Shelagh Norton in undertaking PhD Research at the Dept. of Classics, Ancient History and Archaeology, University of Birmingham. This research is the first study of a group of potential marsh-forts, and will deliver a greater understanding of the focus area, indicating how representative these sites are and how they can inform more broadly about Iron Age society.
This lecture will take place at the BMI.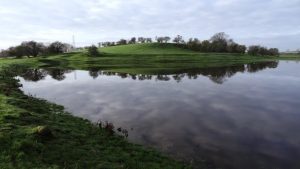 When is a Hillfort not a Hillfort? Marsh-forts in North Shropshire