Tuesday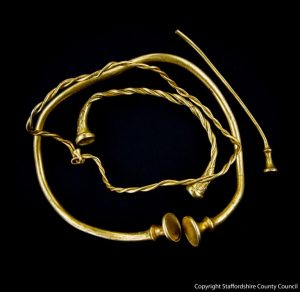 9th January 2018
Annual Lunchtime Lecture 1pm – 2pm
Speaker: Teresa Gilmore 
The talk will cover the recent spectacular find from the Staffordshire Moorlands, that of the Leekfrith Torcs, the earliest Iron Age gold found so far and the early Celtic art. We shall hear the story of their discovery and journey through the Treasure Process, an excellent example of partnership works, research and latest development.
Teresa is the Finds Liaison Officer, Portable Antiquities Scheme based at Birmingham Museums Trust.
This lecture will take place at the BMI
The Leekfrith Torcs: A talk on the Torcs!